Parish Records are records of baptisms, marriages/weddings and burials made by the church. Both Civil Registration (BMD records) and Census Returns run out when you get back to 1837. At this stage, you need to turn to Bishop's Transcripts and Parish Records These date back to 1538 when Cromwell, at the court of Henry VIII, ordered that every wedding, baptism and burial should be recorded.
---
Early records were made on paper but from 1558 parchment was used, and the older records were supposed to have been copied but some never were and have been lost. From 1597, a second copy had to be made and sent to the bishop – these were called the Bishop's Transcripts. These are often in better condition and written more legibly; they are worth researching if the Parish Record you want is unclear or missing.
---
Information in a Parish Record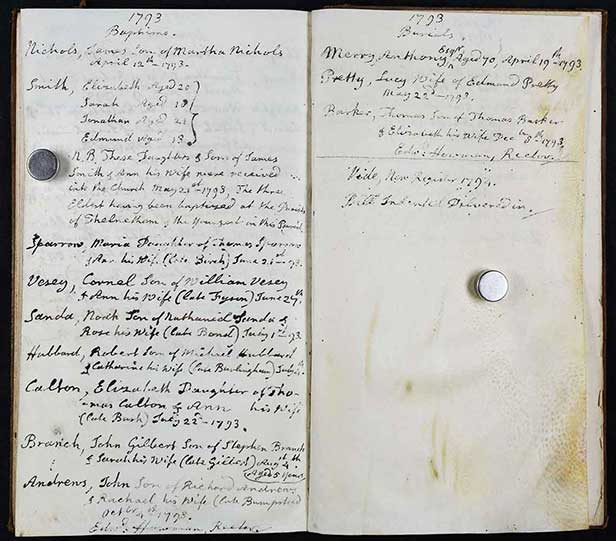 Baptism Records
You may only find the name. You may also find that on some records, the father's name and the mother's name has also been recorded. It is extremely unlikely that you will find a mother's maiden name on a baptism record, as this is very rare. From 1812, records included the father's occupation and the mother's maiden name.
Marriage Records
These contain the name of the bride and groom, the Parish where they were married and sometimes details of the bride's parish. The level of detail changes depending on the year – from 1812, given information included parish of origin of both parties, names, status (e.g. bachelor, widow, etc), ages, signatures, and signatures of witnesses.
Burial Records
You should be able to find the name and, especially for children, the father's name. They also may note the age of the deceased. After 1813, records contained more information including the age, occupation and abode.
---
Tips and Things to Remember
There may be gaps in the registers between 1553 and 1558 when Mary Tudor was on the throne, and between 1642-1660 during the English Civil War, and throughout the Commonwealth.
It could be worthwhile investing in Parish maps for your relevant counties – these not only mark the boundaries of each parish and show adjacent parishes, but also give dates that registration began in each parish.
---
Viewing Parish Records
To find out more information about parish records, you might want to take a look at parishregister.co.uk.
Parish records are available either at a local County Record Office, on CD or download from S&N Genealogy Supplies, or online at The Genealogist.
For Bishop's Transcripts, ask for details at a County Record Office.